In this industry, one thing seems to be on everyone's mind right now — marketing to millennials. Companies are scrambling to adjust their marketing campaigns to the needs of this demographic cohort. But, what's the rush? Well, Pew Research revealed in April 2020 that millennials have overtaken baby boomers as America's largest generation. Because of this, millennials have become the talk of the town, with many industry experts closely analyzing the generation.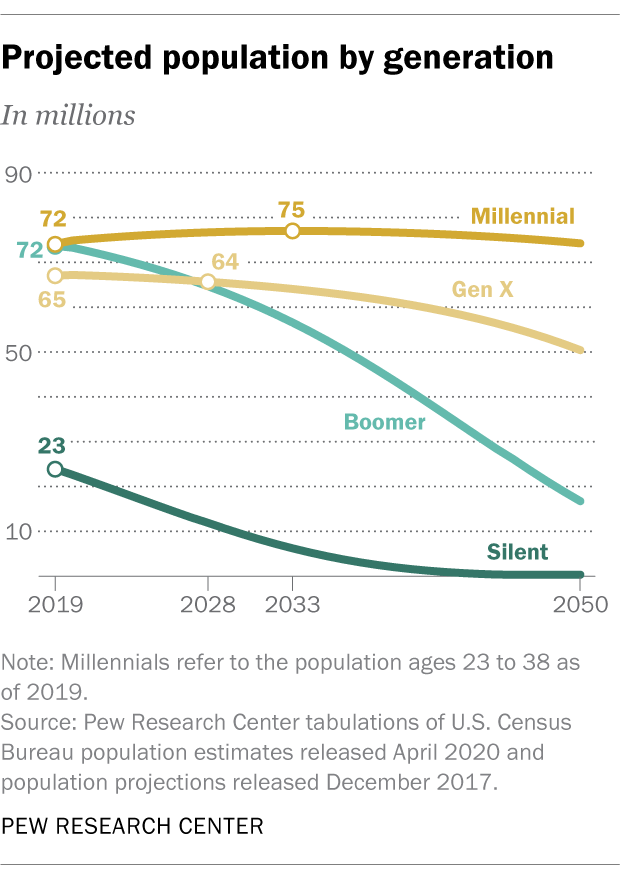 Naturally, like any other generation, millennials think and buy differently. Every brand tries to charm the pants off them, but businesses know this isn't an easy feat. You should prepare for this journey as well. If millennials are your target audience, it's crucial to understand what makes them tick, what they value, and which factors influence their purchasing habits.
In this article, we've compiled a quick guide to marketing to millennials. Apart from useful information about this generation, we'll also provide tips on how to effectively market to them.
Without further ado, let's prepare you for those millennials!
What Are Millennials?
Everywhere you go, you hear about these "millennials." So, what and who are they? Believe it or not, it's not easy to give a precise definition. Regardless of where we looked, sources seemed to provide a different age range for this generation. But, we can say that most people born between 1980 and 2000 are millennials. That's a huge age gap! You need to find a way to market to 20-year-olds and 40-year-olds at the same time.
Thankfully, they share some common characteristics that make your job easier. We've singled out the most important ones that can help you while you're marketing to millennials.
They're Educated and Career Driven
Yes, they are smart! People in this generation are the best-educated adults in U.S. history! In fact, one-third of them have a four year college degree. And they want to put this education to good use! We can even describe them as being go-getters.
According to one survey, 54% of millennials either want to open a business or are already running their own. Based on this, it's easy to see that Gen Y-ers are both intelligent and hungry for success. They want to change the world. They don't wish to work from 9 to 5 every day. Quite the contrary, they want to run their own companies and leave a mark on the world.
They're Tech-Savvy
Generation Y and technology go together like peanut butter and jelly. For most, if not all, of their lives, millennials have had access to the internet. Armed with smartphones, tablets, and other devices, they seem to be online 24/7. But don't call millennials, they love to communicate through emails or text messages more! This generation can't imagine the world without technology and the internet.
They're Family-Oriented
Although they're always on the go, millennials don't find this hectic lifestyle as appealing as they used to. In fact, they are willing to find a better work-life balance. The members of this group are beginning to settle down and start families. Indeed, more than a million millennials are becoming moms every year.
They Crave Attention
Don't you dare withhold feedback or guidance from millennials! They appreciate being informed and need praise and reassurance to keep going. Because of this, they benefit from mentors who can help them grow and expand their knowledge.
We now know what millennials are, but we need to know why they're so important as well.
Why Are Millennials Important to Marketers?
Marketing to millennials means understanding why you should pay close attention to them. And the best way to prepare you for your millennial customers is through facts that prove this group can help you grow your business in no time.
Millennials = Generation Buy
They haven't still reached their full purchasing power, but millennials eclipse other generations. Today, there are 87 million members of this generation in the USA. Naturally, such a large group needs to have an enormous buying power. In fact, the members of this group are projected to spend $1.4 trillion! This makes them one of the most lucrative markets.
To put it simply, marketing to millennials should be a priority of every brand. No matter what you do, your marketing efforts should be aimed at them.
Millennials Switch Brands
Another reason why you should pay attention to your millennial consumers is that they switch brands easily unlike other demographic cohorts. One millennial market research revealed that only 29% of millennials will make a purchase from the same brand. However, they weren't like this before.
In 2015, experts believed that Generation Y was the most brand-loyal generation. But this has changed over the years. Now, brands need to pull out all the stops to engage and retain millennials.
Millennials and Technology: A Love Affair
Millennials have often been first to adopt new technology and recommend it to others. Pew Research writes that nine out of ten millennials have a smartphone. You'll most likely see them with their eyes glued to the screen, watching some captivating content on the internet.
As the majority of them own a device and spend time online, millennials love to consume web content. That's why you should focus on digital marketing if you want to draw them closer to your brand. Videos, visuals, and moving stories are what engages them. So, if you want them to spend their money on your brand, you know what to do.
Marketing to millennials is the hottest buzzword in the industry. But don't start devising your marketing strategies without taking a look at the below useful tips. Trust us, they'll be worth your while. Let's go!
Marketing to Millennials: Useful Tips
It's a fact — millennials are dominating the market today. They have enough purchasing power to make or break your business. So, ignoring them just won't do. You need to engage, motivate, and attract them to your brand. But if you don't know how to reach millennials, these tips will help you along the way.
Let's see how you can amaze the demographic of the hour!
Create Authentic and Relevant Content
The internet is the place to be for millennials. On average, they spend 211 minutes on their smartphones every day. Therefore, it's obvious that they want content-driven media. They're surfing the web, reading blog posts, watching hours of videos, and roaming social media. The content they find empowers them.
Furthermore, they're also sharing, liking, tweeting, and commenting on all posts they find. In a way, they want content that impresses and moves the online community. Why does this type of content resonate with Gen Y-ers? Because it's authentic. And there's nothing more millennials like than authenticity.
In fact, 90% of millennials say authenticity is important to them when they're selecting their go-to brand. Today, young consumers are largely influenced by their close ones or people online. Gen Y-ers are always "communicating" with these "advisors" on their smartphones. They want to hear relevant and authentic opinions before deciding what products or services to buy.
While you're marketing to millennials, you should know that the members value user-generated content more than other media. If you want to reach Gen Y-ers, you have to speak their language. They love hearing or reading words and phrases that could have come straight from their mouths.
Forget About Outbound Marketing
Want to impress millennials? Not with outbound marketing, you won'! This generation wants to feel connected with your brand and traditional marketing won't help you here. Outbound marketing methods like billboards, radio spots, or TV commercials aren't millennials' cup of tea. They crave something more refreshing and cool. Obviously, they want personalized marketing.
These young consumers do a lot of research on the internet. They spend hours on blogs or forums, getting all information they need before buying a product. Millennials want to make their own online choices. But they need to be inspired by their friends or authentic content first.
Inform and Educate with Inbound Marketing
Millennials can't get enough of businesses that publish informative and educational content. They want to find e-books, blogs, whitepapers, and videos on your website. What do you call this content? Inbound marketing! It's a fact that Gen Y-ers appreciate expertise when researching a new product or service. So, to quote Hamilton: An American Musical, don't throw away your shot!
Cosmetics companies know a thing or two about providing informative content from experts. After all, people want assistance, and when your brand offers to give that, they appreciate you more. Almost 18% of millennials aged 26 to 35 watch 10 to 20 hours of online video every week. Therefore, using this marketing tool is a must. A millennial cosmetics lover is more likely to send a tutorial video to their friends than tell them about a great print ad they saw.
Show Millennials They Matter
Like other demographic cohorts, millennials also want to feel like you create content with their interest in mind. If you show them they matter to you, they'll reach a purchasing decision sooner. Being "pushy" would be a wrong approach to marketing to millennials. Use educational content that builds strong brand-customer relationships. Your customers will always choose honesty and transparency more than anything else.
Additionally, millennials seek emotional connections. Use this to your advantage! A whopping 48% of millennials are more likely to buy from you if they know the people behind your brand. Create content that will strike a chord with them and show how much you value them.
Be Open to Collaboration
Millennials don't like being casual bystanders — they want to be involved in your creative process. Indeed, 42% say they want to help brands develop future products and services. As you know, companies usually create products and just hope that their customer base will consume and accept them. But millennials are cut from a different cloth. They want to help you and have some influence over your special offering.
If you can, find ways to include them in the product development process. You're bound to be more successful if you do. By allowing them to contribute and have some say, you'll build a strong relationship with your customers. Try this tip on marketing to millennials to see for yourself!
Millennials Are a Force to Be Reckoned With
Millennials are a powerful and lucrative market because of their purchasing power and impact. If you want to start marketing to millennials, it's important you remember that they differ from other generations. Once you understand their buyer's journey and what marketing type they prefer, you can plan your strategies accordingly.
Best of luck!